#GivingTuesday week celebration of courage and partnership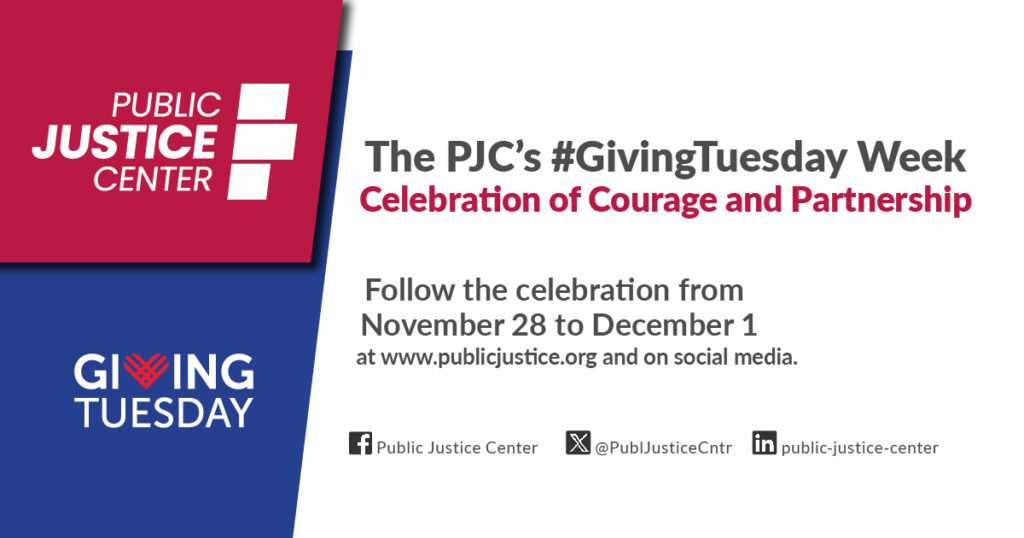 Starting on #GivingTuesday, join us online for a weeklong celebration of clients and partners who collaborate with us in building a just society. We'll celebrate this year's recipients of the John P. Sarbanes Courage Awards—honoring clients who exhibit tremendous courage in the face of injustice—and Outstanding Partner Awards, which go to individuals and organizations whose work makes a difference for our clients and the issues we work on.
Follow the celebration at www.publicjustice.org and on our Facebook, X, and LinkedIn pages from November 28 to December 1 as we honor:
Four tenants who advocated for housing justice: including safe and healthy housing, increased rental inspection accountability measures, emergency rental assistance to prevent evictions, and tenants' right to reclaim their property after an eviction.
Two people with lived experience of Electronic Benefits Transfer (EBT) card skimming theft who testified for state legislation to reimburse people for stolen food and cash assistance benefits and enhance security protections for EBT cards.
Eleven workers who persisted in fighting for their unpaid wages over the last five years.
Two partner organizations that have advanced the movement for community-controlled, permanently affordable housing in Baltimore City.
We look forward to celebrating courage and partnership with you the week of #GivingTuesday!