John's farewell celebration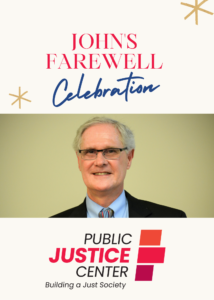 January 19 ~ 4:00 – 5:00 p.m.
Zoom
John Nethercut is retiring on January 23. Join fellow PJC supporters to celebrate John's 20 years of leadership of the PJC. Hear brief remarks from John on his impact as Executive Director. Say farewell to John as he leaves the PJC for retirement and the next phase of his social justice work. RSVP.
Read the press release announcing his retirement.
Can't attend? You can share your thoughts on John's impact, fond memories of John, and words of advice or well wishes with John and contribute to the John Nethercut Fund.