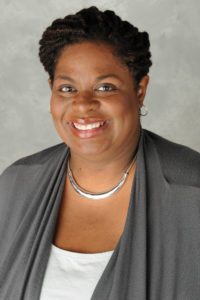 Jeniece Jones, MPA, JD joined the Public Justice Center as Executive Director in January 2022.
She has been a champion for social and economic justice and anti-racism throughout her career as a nonprofit leader, fundraiser, attorney, educator, and volunteer. Most recently, Jeniece was Executive Director of Housing Opportunities Made Equal of Greater Cincinnati, where she led a team in advocating to eliminate unlawful discrimination in housing and promoting stable, integrated communities. She has also led Community Shares of Greater Cincinnati (a community fund focused on building awareness of and fundraising for local social, economic, and environmental justice causes); worked as an attorney dealing with civil matters; and taught courses in nonprofit law, strategic planning, and best practices to students in Northern Kentucky University's Master of Public Administration program. Jeniece served on boards of organizations working to create an affordable housing trust fund for Cincinnati, helping to resolve landlord-tenant issues, fighting to reduce infant mortality, and advocating on behalf of human services providers in Hamilton County, Ohio.
She has been honored for her contributions to social justice by the Cincinnati Women's Political Caucus and with the Cincinnati Bar Association's Academy of Leadership for Lawyers Fellowship. In 2021, the National Council of Negro Women, Cincinnati Section, saluted her efforts in the advancement of racial justice.
Jeniece earned a Bachelor's degree in Journalism from West Virginia University, a Master's degree in Public Administration from Northern Kentucky University, and a Juris Doctorate in Law from Salmon P. Chase College of Law at Northern Kentucky University.
(410) 625-9409 x238
Email
she / her