January 31, 2022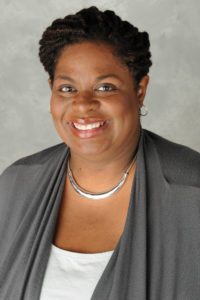 BALTIMORE, MD – On January 24, Jeniece Jones, MPA, JD, became the new Executive Director of the Public Justice Center – a local and national leader in public interest law reform that uses systemic legal advocacy to pursue social justice, economic and race equity, and fundamental human rights for people who are struggling to provide for their basic needs.
"The PJC's work is the mission for the moment and the coming mid-century. I'm overjoyed to be joining such a deeply committed and impactful team of staff, board, volunteers, and community stakeholders. The PJC fights to dismantle the barriers to a just community; this systems-level approach to advocacy is fundamental to advancing basic human rights and ensuring that all people have equitable access to opportunity. The PJC's amplification of anti-racism as a core value is an intensely personal and professional touchstone for me," shared Jeniece on why she is excited to lead the PJC.
Jeniece Jones has been a champion for social and economic justice and anti-racism throughout her career as a nonprofit leader, fundraiser, attorney, educator, and volunteer. Most recently, she was Executive Director of Housing Opportunities Made Equal of Greater Cincinnati, where she led a team in advocating to eliminate unlawful discrimination in housing and promoting stable, integrated communities. She has also led Community Shares of Greater Cincinnati (a community fund focused on building awareness of and fundraising for local social, economic, and environmental justice causes); worked as an attorney dealing with civil matters; and taught courses in nonprofit law, strategic planning, and best practices to students in Northern Kentucky University's Master of Public Administration program. She served on boards of organizations working to create an affordable housing trust fund for Cincinnati, helping to resolve landlord-tenant issues, fighting to reduce infant mortality, and advocating on behalf of human services providers in Hamilton County, Ohio.
She has been honored for her contributions to social justice by the Cincinnati Women's Political Caucus and with the Cincinnati Bar Association's Academy of Leadership for Lawyers Fellowship. In 2021, the National Council of Negro Women, Cincinnati Section, saluted her efforts in the advancement of racial justice.
Jeniece earned a Bachelor's degree in Journalism from West Virginia University, a Master's degree in Public Administration from Northern Kentucky University, and a Juris Doctorate in Law from Salmon P. Chase College of Law at Northern Kentucky University.
Jeniece succeeds John Nethercut, who served as the Public Justice Center's Executive Director for 20 years. To ensure a successful leadership transition, the Board of Directors, led by Camille Blake Fall and Miriam Nemeth, formed a search committee comprised of board and staff members and engaged executive search firm On-Ramps to conduct the search. The search committee was comprised of board members Andy Dahl, Ahmed Elsayed-Ahmed, Jordan Rosenfeld, Mehgan Sidhu, and Larry Simmons and staff members Kathleen Gregory, Matt Hill, Tyra Robinson, and Zafar Shah.
Board Chair Camille Blake Fall commented on just a few of the reasons Jeniece is an excellent fit as the PJC's next Executive Director: "A committed social justice champion and exemplary, service-oriented nonprofit executive, Jeniece's combination of expertise and passion will continue to energize and inform the vital, mission-driven work of the PJC for years to come."
Miriam Nemeth, Board Vice Chair, added: "We are incredibly excited for Jeniece to join the PJC. Jeniece is exactly the kind of leader we want in this moment, and we are excited to see how she helps the organization grow."
Watch this video to meet Jeniece and hear more about why she's excited to join the team.