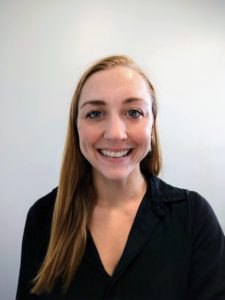 Samantha Gowing (she/her/hers) joined the Public Justice Center's Human Right to Housing Project in September 2022. She works in collaboration with Baltimore Renters United to support grassroots tenant organizing, provide outreach and education around tenants' rights, and represent tenants in eviction cases. She received a Juris Doctorate from the University of Michigan Law School, where she was involved in the fight against Detroit's illegal foreclosure practices. She has worked for grassroots organizers in Washington, DC, (WIN (IAF)), where she supported campaigns around public housing and immigrants' rights, as well as for tenant organizers in Los Angeles (LACCLA). Samantha grew up in Atlanta and earned a B.A. in English from Davidson College.
Phone: (410) 625-9409 x273
Email
Levi Bradford is an attorney with the Public Justice Center's Education Stability Project, which works to end exclusionary disciplinary practices in Maryland schools through direct representation of students in disciplinary proceedings, community outreach, and legislative, regulatory, and policy advocacy on the state and school board levels. Prior to joining the Public Justice Center, Levi worked as a public defender in Florida.
Phone: (410) 625-9409 x272
Email
Kelsey Carlson joined the Public Justice Center in August 2022 as a Paralegal for the Education Stability Project, after graduating from Syracuse University with a bachelor's degree in Writing and Rhetoric. Prior to attending SU, Kelsey attended Jamestown Community College in Western NY, where she developed a love for the cold and the Buffalo Bills. (Sometimes simultaneously.) She grew up just across the pond in Boonsboro, Maryland, and her interests include reading, tubing, and people watching from her porch. She is excited for this opportunity to utilize her knowledge of rhetoric and is looking forward to honing those skills through application.
Phone: (410) 625-9409 x269
Email
Public Justice Center
Baltimore, Maryland
September 2022
Be a critical member in a team of dedicated social justice advocates! The Public Justice Center seeks an attorney to join its Workplace Justice Project team.
The Public Justice Center ("PJC") and the Workplace Justice Project
The PJC pursues systemic change to build a just society. Founded in Maryland in 1985, the PJC uses legal advocacy tools to pursue social justice, economic and racial equity, and fundamental human rights for people who are struggling to provide for their basic needs. The PJC is a civil legal aid office that provides advice and representation to low-income clients, advocates before legislatures and government agencies, and collaborates with community and advocacy organizations.
The PJC's Workplace Justice Project seeks to advance justice, equity, and worker power in the workplace. Project attorneys approach this mission through a broad array of strategies, including representing low-wage workers in wage-theft suits in state and federal courts; providing know-your-rights education to workers and community groups; and engaging in policy advocacy before the Maryland General Assembly in partnership with other advocates and organizations. We also make space to take on additional work outside of these areas as needed, including, most recently, a successful suit challenging Maryland's premature termination of federal unemployment insurance benefits and an ongoing suit challenging various aspects of the state's administration of its unemployment insurance program. We work closely with unions, grassroots membership organizations, and other community groups and follow the lead of the individuals most impacted by injustice. We focus on industries where wage theft is common and where people of color comprise a disproportionate part of the workforce, including restaurants, construction, home care, janitorial and cleaning services, and landscaping, among others. The attorney will report to the lead attorney of the Workplace Justice team.
Core Duties:
Engaging in all aspects of litigation in state and federal courts, including fact development; legal research; drafting of pleadings, motions, and memoranda; and discovery
Providing know-your-rights trainings and outreach to community groups
Actively participating in coalition and team meetings and advancing policy advocacy, including in the Maryland General Assembly
Thorough and timely case and file management
Developing and advancing the goals of the PJC's Workplace Justice Project, including contributing to the team's workplan and race equity analysis
Desired Skills and Experience:
The following qualifications are valued for this position. Applicants should also identify other related or supplementary skills and experiences.
Maryland bar admission or admission to another state bar and willingness to secure admission in Maryland as soon as possible
Prior legal experience with low-income and other oppressed communities and clients
Ideally, at least three years of experience practicing as a lawyer, although outstanding attorneys with less experience will also be considered
Passion for social justice and commitment to the PJC's vision
Understanding of the principles of race equity analysis and the intersection of racism and poverty and their application to the PJC's organizational life and to our work
Attention to detail and keen organization skills
Ability to work under deadline and manage multiple tasks
Lived experience with our client communities highly desired
Ability to empathize and sensitively respond to people in crisis situations
Strong problem-solving, time management, and organizational skills
Ability to work both independently and collaboratively with others within and outside the PJC
Compensation:
This is a full-time, exempt, professional position. The attorney may be called upon to work hours more than 40 hours in a workweek, including the potential for evening and weekend work. Local travel will be required at times. Salary is determined by the PJC's pay scale; the range for an attorney with 3 to 5 years of experience is $66,000-$72,000 and increases with experience, plus $1,000 Spanish language annual salary supplement if qualified. An excellent cafeteria benefit package is offered including options for health, dental, disability and life insurance, and a retirement plan.
Applications:
Applications will be accepted and interviews conducted on a rolling basis until the position is filled, but priority consideration will be given to applications received soon. Applications will be accepted by email only. To apply, please submit (1) a cover letter explaining your interest, (2) a resume, (3) two legal writing samples, and (4) the names, telephone numbers, and email addresses of three references. Please send application materials to Emily Woo Kee at WookeeE@publicjustice.org, with "Workplace Justice Attorney applicant" in the subject line.
COVID-19 Information:
Most PJC positions, including this one, generally have the option of working in our office in downtown Baltimore City or at home. The attorney will be required to come to the office, the courts, or other meetings only as necessary. The PJC is providing PPE for employees and guests and maintaining other risk reduction measures in the office.
Physical/Mental Demands and Office Environment:
The physical/mental demands described in this job announcement are representative of those that must be met by an employee to successfully perform the essential functions of this job. Reasonable accommodations may be made to enable qualified individuals with disabilities to perform the essential functions.
Equal Employment Opportunity:
The Public Justice Center is an equal opportunity, affirmative action employer that encourages all interested persons to apply regardless of race, color, national origin, ancestry, ethnicity, citizenship, creed, sex, gender, sexual orientation, gender identity, transgender status, age, religion, genetic information, physical or mental disability, marital status, or any other legally protected status. We strongly encourage Black, Latine, Indigenous, and other applicants of color, people with disabilities, and other people historically underrepresented in the practice of law to apply.
Nina Masin-Moyer joined the PJC in August 2022 as a paralegal in the Human Right to Housing Project through the Jesuit Volunteer Corps. Nina is originally from Philadelphia, Pennsylvania, and graduated from College of the Holy Cross in 2022 with a B.A in English and a minor in Studio Art. Nina is excited to learn more about housing issues and applying her skills to the legal field.
Phone: (410) 625-9409 x235
Email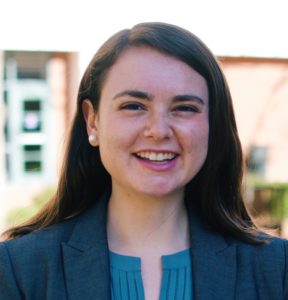 Hayley Hahn is honored to serve as the 2022-2023 Francis D. Murnaghan Appellate Advocacy Fellow at the Public Justice Center. In this role, she represents parties and files amicus briefs in civil rights cases related to poverty law and racial equity issues in state and federal courts.
Prior to joining PJC, Hayley clerked for the Honorable Carlton W. Reeves on the United States District Court for the Southern District of Mississippi. She earned her law degree from the University of Virginia School of Law, where she was a Karsh-Dillard Scholar and a member of the Raven Society. During law school, Hayley participated in the Civil Rights Clinic directed by the Legal Aid Justice Center, served as the President of the American Constitution Society at UVA Law, and was the Notes Development Editor for the Virginia Journal of International Law and a member of the editorial board of the Virginia Law Review. Her writing on civil rights topics has been published in the Virginia Law Review Online and the Journal of Law & Political Economy. She also won first place in the 2020 Founding Fathers Religious Liberty Student Writing Competition and first place in the 2021 Harvard Law School Law & Political Economy Writing Prize.
Before law school, Hayley received a Fulbright Student award to conduct research at McGill's Centre for Research on Children and Families. Her work has appeared in the International Indigenous Policy Journal and on the Canadian Child Research Portal. She graduated from the College of William & Mary summa cum laude in 2017, where she was elected to Phi Beta Kappa.
Phone: (410) 625-9409 x222
Email
Emily Woo Kee joined the PJC in June 2022 as a paralegal for the Workplace Justice Project, after graduating from Smith College with a B.S. in Government and a focus in International Politics. Emily's time at Smith gave them the opportunity to explore the intersections of capitalism, racial oppression, and climate change, which inspired them to become a student organizer on campus. Besides the climate crisis, Emily also became invested in Latin American politics, which resulted in research concerning immigration, trade, and the water politics of the Rio Grande. Emily is excited to apply their research and writing skills to a legal setting and learn how law can be used to further social justice. Emily is originally from El Paso, Texas, and La Junta, Chihuahua, which is in northern Mexico. As of right now their interests include swimming, collecting new house plants, and exploring Baltimore!
Phone: (410) 625-9409 x246
Email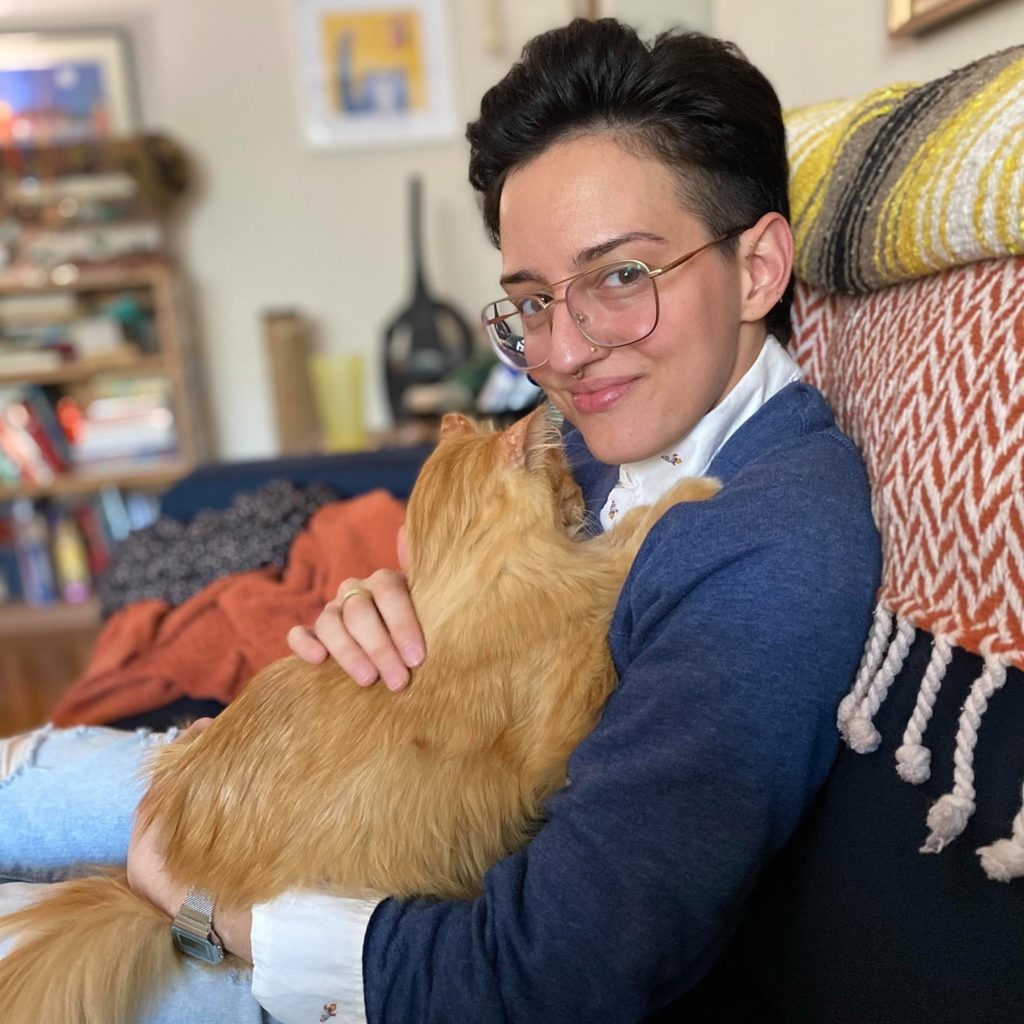 Amanda Insalaco is the Legal Research Specialist at the National Coalition for a Civil Right to Counsel. Before joining the NCCRC in February 2022, Amanda was an Equal Justice Works Fellow at the Center for Disability & Elder Law (CDEL) where they implemented the Housing Preservation Project. As Fellow, Amanda provided outreach presentations to hundreds of senior homeowners and trained and supervised pro bono volunteers who provided almost 400 legal services for estate planning, title searches, and property tax exemptions, with the goal of increasing housing stability, affordability, and the intergenerational transfer of wealth. She also handled a wide variety of other civil legal matters. Amanda graduated cum laude from DePaul University College of Law in May of 2019 and summa cum laude from Northern Illinois University in May of 2014 with a degree in Community Leadership and Civic Engagement.
Amanda lives in Chicago with their partner and orange cat, Bean. She enjoys cooking for loved ones and reading books written by Ivan Coyote.
Phone: (410) 204-8519
Email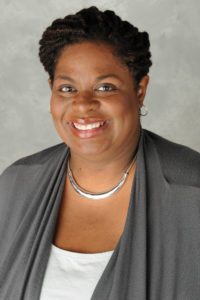 Jeniece Jones, MPA, JD joined the Public Justice Center as Executive Director in January 2022.
She has been a champion for social and economic justice and anti-racism throughout her career as a nonprofit leader, fundraiser, attorney, educator, and volunteer. Most recently, Jeniece was Executive Director of Housing Opportunities Made Equal of Greater Cincinnati, where she led a team in advocating to eliminate unlawful discrimination in housing and promoting stable, integrated communities. She has also led Community Shares of Greater Cincinnati (a community fund focused on building awareness of and fundraising for local social, economic, and environmental justice causes); worked as an attorney dealing with civil matters; and taught courses in nonprofit law, strategic planning, and best practices to students in Northern Kentucky University's Master of Public Administration program. Jeniece served on boards of organizations working to create an affordable housing trust fund for Cincinnati, helping to resolve landlord-tenant issues, fighting to reduce infant mortality, and advocating on behalf of human services providers in Hamilton County, Ohio.
She has been honored for her contributions to social justice by the Cincinnati Women's Political Caucus and with the Cincinnati Bar Association's Academy of Leadership for Lawyers Fellowship. In 2021, the National Council of Negro Women, Cincinnati Section, saluted her efforts in the advancement of racial justice.
Jeniece earned a Bachelor's degree in Journalism from West Virginia University, a Master's degree in Public Administration from Northern Kentucky University, and a Juris Doctorate in Law from Salmon P. Chase College of Law at Northern Kentucky University.
(410) 625-9409 x238
Albert Turner is an attorney in the Human Right to Housing Project at the Public Justice Center (PJC). Prior to joining the PJC, Albert was an attorney with the Homeless Persons Representation Project, Inc. (HPRP), where he worked in the Veterans Legal Assistance Project, the Reducing Barriers to Housing and Employment Imposed by Criminal Records Project, and the Housing Justice Project. At HPRP, Albert represented clients in veteran benefit and discharge upgrade claims, helped clients expunge past criminal records, and defended clients in court eviction proceedings and in administrative hearings with the Housing Authority of Baltimore City.
He earned a J.D. from Howard University and a B.A. from Oakwood University. Before attending law school, Albert taught English in Seoul, South Korea.
Albert is a board member for Restorative Response Baltimore, a conflict resolution and community building organization that provides ways for people to collectively and effectively prevent and resolve conflicts and crime. He also serves on the Section Council for the Delivery of Legal Services Section of the Maryland State Bar Association.
Phone: (410) 625-9409 x250
Email