Emily Woo Kee is a paralegal in the Public Justice Center's Workplace Justice Project.
Phone: (410) 625-9409
Email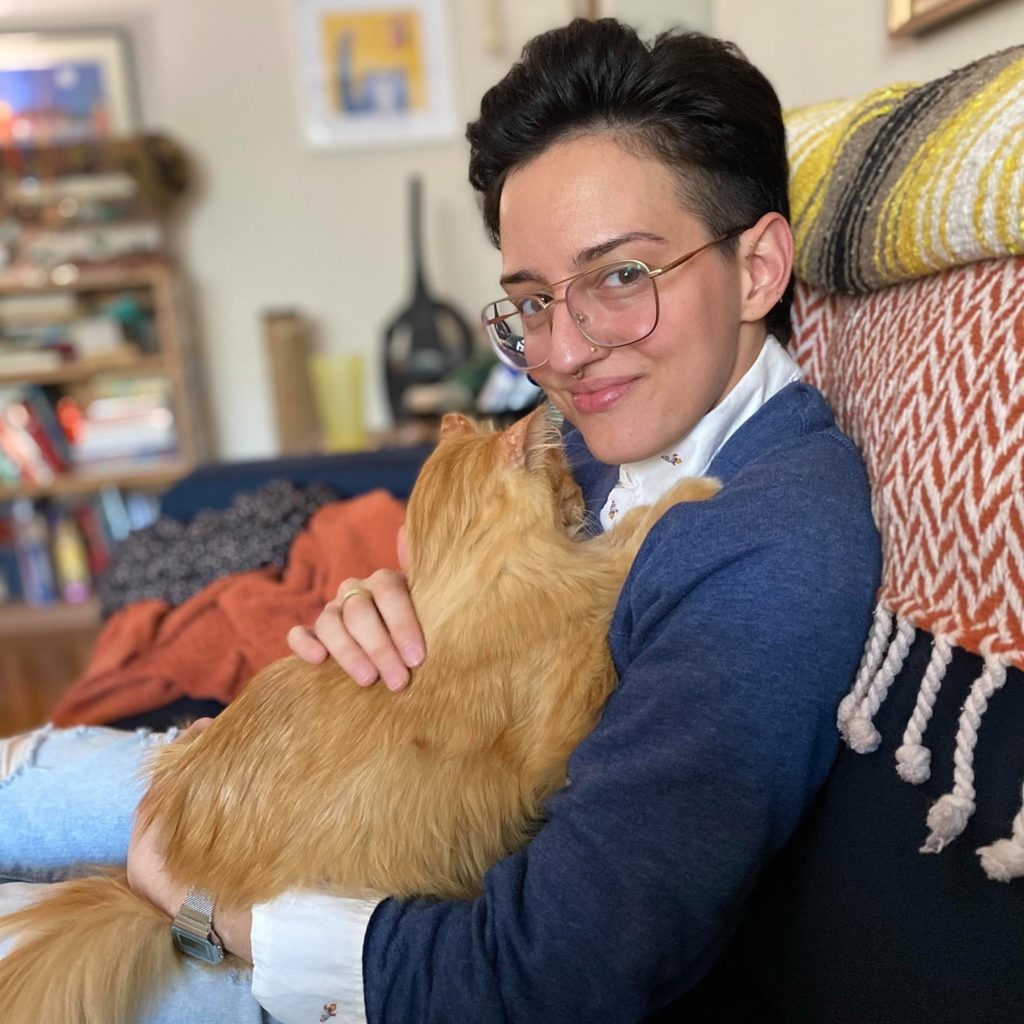 Amanda Insalaco is the Legal Research Specialist at the National Coalition for a Civil Right to Counsel. Before joining the NCCRC in February 2022, Amanda was an Equal Justice Works Fellow at the Center for Disability & Elder Law (CDEL) where they implemented the Housing Preservation Project. As Fellow, Amanda provided outreach presentations to hundreds of senior homeowners and trained and supervised pro bono volunteers who provided almost 400 legal services for estate planning, title searches, and property tax exemptions, with the goal of increasing housing stability, affordability, and the intergenerational transfer of wealth. She also handled a wide variety of other civil legal matters. Amanda graduated cum laude from DePaul University College of Law in May of 2019 and summa cum laude from Northern Illinois University in May of 2014 with a degree in Community Leadership and Civic Engagement.
Amanda lives in Chicago with their partner and orange cat, Bean. She enjoys cooking for loved ones and reading books written by Ivan Coyote.
Phone: (410) 204-8519
Email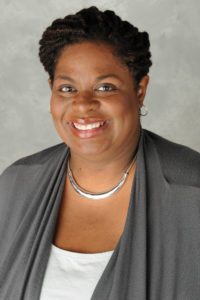 Jeniece Jones, MPA, JD joined the Public Justice Center as Executive Director in January 2022.
She has been a champion for social and economic justice and anti-racism throughout her career as a nonprofit leader, fundraiser, attorney, educator, and volunteer. Most recently, Jeniece was Executive Director of Housing Opportunities Made Equal of Greater Cincinnati, where she led a team in advocating to eliminate unlawful discrimination in housing and promoting stable, integrated communities. She has also led Community Shares of Greater Cincinnati (a community fund focused on building awareness of and fundraising for local social, economic, and environmental justice causes); worked as an attorney dealing with civil matters; and taught courses in nonprofit law, strategic planning, and best practices to students in Northern Kentucky University's Master of Public Administration program. Jeniece served on boards of organizations working to create an affordable housing trust fund for Cincinnati, helping to resolve landlord-tenant issues, fighting to reduce infant mortality, and advocating on behalf of human services providers in Hamilton County, Ohio.
She has been honored for her contributions to social justice by the Cincinnati Women's Political Caucus and with the Cincinnati Bar Association's Academy of Leadership for Lawyers Fellowship. In 2021, the National Council of Negro Women, Cincinnati Section, saluted her efforts in the advancement of racial justice.
Jeniece earned a Bachelor's degree in Journalism from West Virginia University, a Master's degree in Public Administration from Northern Kentucky University, and a Juris Doctorate in Law from Salmon P. Chase College of Law at Northern Kentucky University.
(410) 625-9409 x238
Albert Turner is an attorney in the Human Right to Housing Project at the Public Justice Center (PJC). Prior to joining the PJC, Albert was an attorney with the Homeless Persons Representation Project, Inc. (HPRP), where he worked in the Veterans Legal Assistance Project, the Reducing Barriers to Housing and Employment Imposed by Criminal Records Project, and the Housing Justice Project. At HPRP, Albert represented clients in veteran benefit and discharge upgrade claims, helped clients expunge past criminal records, and defended clients in court eviction proceedings and in administrative hearings with the Housing Authority of Baltimore City.
He earned a J.D. from Howard University and a B.A. from Oakwood University. Before attending law school, Albert taught English in Seoul, South Korea.
Albert is a board member for Restorative Response Baltimore, a conflict resolution and community building organization that provides ways for people to collectively and effectively prevent and resolve conflicts and crime. He also serves on the Section Council for the Delivery of Legal Services Section of the Maryland State Bar Association.
Phone: (410) 625-9409 x250
Email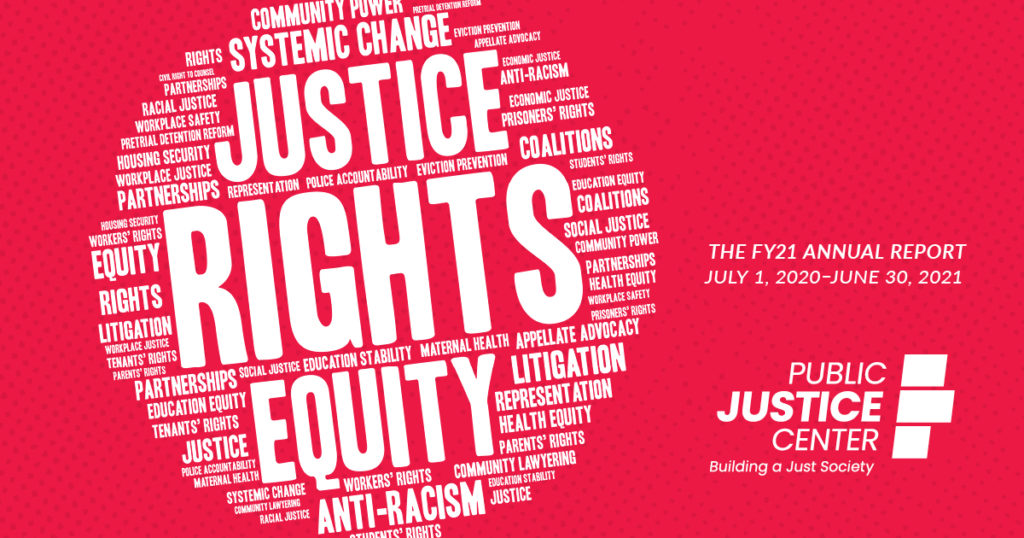 You inspired and powered our work to address the immense challenges surfaced by the COVID-19 pandemic while, at the same time, advocating for laws, policies, and practices to advance racial equity and justice. Thank you!
Together, we achieved progress and important victories in our advocacy for systemic change. Let us show you examples from the last year in our FY21 Annual Report.
Public Justice Center, Inc. is a §501(c)(3) organization, gifts to which are deductible as charitable contributions for Federal income tax purposes.
California: Public Justice Center, Inc.'s audited financial statement is available upon request to Public Justice Center, Inc. 100 percent of your gift may be deducted under Federal and State income tax laws.
Florida: A COPY OF THE OFFICIAL REGISTRATION AND FINANCIAL INFORMATION MAY BE OBTAINED FROM THE DIVISION OF CONSUMER SERVICES BY CALLING TOLL FREE WITHIN THE STATE (1-800-435-7352) OR AT WWW.FLORIDACONSUMERHELP.COM. REGISTRATION DOES NOT IMPLY ENDORSEMENT, APPROVAL, OR RECOMMENDATION BY THE STATE. THE PUBLIC JUSTICE CENTER'S REGISTRATION NUMBER IS CH66182.
Georgia: Upon request, Public Justice Center, Inc., will provide a full and fair description of this and its other programs, and a financial statement or summary.
Maryland: A copy of Public Justice Center, Inc.'s current financial statement is available on request by contacting the Public Justice Center, Inc. at 201 N Charles St, Suite 1200, Baltimore, MD 21201 or by telephone at (410) 625-9409. For the cost of copies and postage, documents and information submitted under the Maryland Solicitations Act are available from the Maryland Secretary of State.
Minnesota: 100 percent of your gift may be deducted as a charitable contribution under Federal and State income tax laws.
Mississippi: The official registration and financial information of Public Justice Center, Inc. may be obtained from the Mississippi Secretary of State's office by calling 1-888-236-6167 (in MS) or 601-359-1350. Registration by the Secretary of State does not imply endorsement.
New Jersey: INFORMATION FILED WITH THE ATTORNEY GENERAL CONCERNING THIS CHARITABLE SOLICITATION AND THE PERCENTAGE OF CONTRIBUTIONS RECEIVED BY THE CHARITY DURING THE LAST REPORTING PERIOD THAT WERE DEDICATED TO THE CHARITABLE PURPOSE MAY BE OBTAINED FROM THE ATTORNEY GENERAL OF THE STATE OF NEW JERSEY BY CALLING (973) 504-6215 AND IS AVAILABLE ON THE INTERNET AT http://www.njconsumeraffairs.gov/ocp/charities.htm. REGISTRATION WITH THE ATTORNEY GENERAL DOES NOT IMPLY ENDORSEMENT.
New York: Upon request, a copy of Public Justice Center, Inc.'s last annual report filed with the Attorney General is available from Public Justice Center, Inc. or from the New York State Attorney General's Charities Bureau, Attn: FOIL Officer, 28 Liberty Street, New York, New York 10005; (212) 416-8401; https://www.charitiesnys.com/.
North Carolina: Financial information about this organization and a copy of its license are available from the State Solicitation Licensing Branch at (888) 830-4989. The license is not an endorsement by the state.
Pennsylvania: The official registration and financial information of Public Justice Center, Inc. may be obtained from the Pennsylvania Department of State by calling toll-free within Pennsylvania, 1-800-732-0999. Registration does not imply endorsement.
Virginia: A financial statement is available from the State Division of Consumer Affairs in the Department of Agriculture and Consumer Services upon request.
Washington: Public Justice Center, Inc. is registered with Washington State's Charities Program as required by law, and additional information may be obtained by calling 800-332-4483 (in WA) or 360-725-0378, or visiting www.sos.wa.gov/charities.
West Virginia: West Virginia residents may obtain a summary of the registration and financial documents from the Secretary of State, State Capitol, Charleston, West Virginia 25305. Registration does not imply endorsement.
Michael is the 2021-2022 Francis D. Murnaghan, Jr. Appellate Advocacy Fellow.
Before the fellowship, Michael served as a law clerk to Chief Judge Roger Gregory on the United States Court of Appeals for the Fourth Circuit and to Judge Kathleen Cardone on the United States District Court for the Western District of Texas. Michael graduated with honors from University of Michigan Law School, where he worked as a student attorney in the Juvenile Justice Clinic and was the Executive Notes Editor of the Michigan Law Review. During law school, Michael published research on legal and public health issues raised by the opioid overdose epidemic and spent his summers in Baltimore working on consumer protection and civil rights litigation.
A lifelong Marylander, Michael attended undergrad at St. Mary's College of Maryland, where he spent time volunteering at the ACLU of Maryland, the Maryland General Assembly, and on grassroots political campaigns. He is excited to have returned home to join the PJC.
Phone: (410) 625-9409 x222
Email
Patrick O'Toole is the Jesuit Volunteer at PJC from August 2021 to July 2022 and works as a paralegal on the Human Right To Housing Team. He is originally from the Boston area and graduated from the University of Notre Dame in 2021 with a degree in Political Science and Arabic. Prior to PJC, Patrick interned with political campaigns and on Capitol Hill. He plans on going to law school in the the next few years and is excited to engage in direct legal service at PJC. In his free time, Patrick enjoys hiking, rooting for Boston sports, and exploring Baltimore.
Phone: (410) 625-9409 x235
Email
Did you know many companies offer a matching gift program to encourage their employees to contribute to nonprofit organizations? And that some companies will even match giving by spouses and retirees?
By simply completing a matching gift form (online or paper), you may be able to double – or even triple – the impact of your gift! 
Use the search field below to see if your employer participates in a matching gift program.
Matching Gift
and
Volunteer Grant
information provided by

Already have the form? Please mail it to:
Public Justice Center
201 North Charles Street, Suite 1200
Baltimore, MD 21201
If you do not find your employer listed, please check with your company's Human Resources department to see if your company offers a matching gift program.
The Public Justice Center is a 501(c)3 organization incorporated in the State of Maryland. The tax ID number is 52-1412226.
Sabrina joined the PJC team in July 2021 as its first Office Manager.  She has an extensive professional background in providing support to non-profits who serve constituents and communities throughout the Baltimore Metropolitan area.  She has provided human resources and office administration support for such organizations as Second Chance Inc., The Annie E. Casey Foundation, East Baltimore Development, Inc. and Project PLASE to name a few.  In 2013 she started her own business, High Points, LLC where she provided human resources and payroll services to small businesses in Baltimore City and County. She managed the local and Annapolis offices of State Senator Delores G. Kelley for several years and provided administrative support to the Senator during annual legislative sessions. 
Sabrina has a passion to assist and inspire others to improve and expand their life experiences to invoke success.  She is the proud mother of two great and delightful men and is happy that her sons still wish to travel and go out dancing with their Mom!
(410) 625-9409 x220
Email